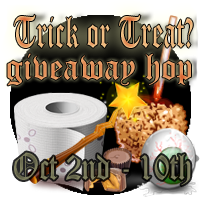 Don't be scared! Come on in! I have Bri Clark, BK Walker, Jennifer Labelle and Joanna Wilson here with me, Kiki Howell. We have lots of goodies for one winner, tricks and treats! Thing is, with this blog hop, you won't know what you've won until it is all over. Fun right? Maybe a little scary?!? Winner will be announced and Contacted on Oct. 11th :)
But, if you want to get an idea of what you may win, then visit each of our blogs, learn a little about us, and while you are there, follow the blog for extra entries.
All you have to do to enter is send an email to

authorsbyauthors@gmail.com

with the Subject Line of "Trick or Treat" Then list for me which of our blogs you've followed by simply listing in the body of the email the author's name(s), one entry per follow. For example, for five entries, you would write "Bri, BK, Jennifer, Joanna and Kiki."
Here's the list of blogs and a bit about each of the wonderful authors I have with me today who have contributed to the wonderful pot of prizes to fill your virtual and physical trick or treat bags:
You are already on Authors By Authors,

http://authorsbyauthors.blogspot.com

owned by me, Kiki Howell. I'm an author of paranormal romances sold both in ebook and print. I like to write about witches mainly, but also vampires and ghosts and all manner of paranormal creatures. So, Halloween is one of my favorite times of the year. Warning though, my heroes and heroines tend to roam into the graphically sexy part of town! You can learn more about my stories at

http://www.kikihowell.com
Next, check out
Bri Clark at
http://briclarkthebelleofboise.blogspot.com/
Bri
is known as the Belle of
Boise
for her true southern accent, bold demeanor and hospitable nature. But don't let the blonde hair, blue eyes, and accent fool ya. She's as volatile as a wildfire on the prairie.
Now onto, BK Walker at
http://www.immortylcafe.com

You can learn all about BK's books at

http://authorbkwalker.blogspot.com
BK loves to write about the paranormal, her niche is vampires and werewolves. Her favorite holiday just happens to be Halloween because this is when her creative world can get the juices flowing with the energy brought with this holiday.
Next we have, Jennifer Labelle at
http://labellebooks.blogspot.com
Jennifer likes to write contemporary romances a little on the spicy side, and short kinky reads in her Leather and Pleasure series. She enjoys paranormal reads, and looks forward to Halloween with her kids. You can read all of Jennifer's books at
http://www.jenniferlabelle.com
And last but not least, we have Joanna Wilson, the author/expert on Christmas-themed TV episodes, specials and movies. But she has a trick up her sleeve as she frequently writes about filmed horror stories that overlap with the yuletide. In her book,
The Christmas TV Companion
, she has an entire chapter devoted to Christmas horror stories! Let's face it, Christmas just wouldn't be Christmas without Charles Dickens' ghost story
A Christmas Carol
or
Tim Burton's Nightmare Before Christmas
, would it? As a treat, check out her blog:
http://ChristmasTVhistory.com